Privacy Policy at The Empty Glass Limerick
At The Empty Glass Limerick.
Privacy Policy
The Empty Glass is committed to protecting and respecting your privacy. We adhere to the Privacy Policy (the "Policy") together with any disclaimers sets out the basis on which any personal data we collect from you or that you provide to us, or that is provided to us relating to you ("Data") by any means will be processed. Please read the following carefully to understand our use of personal data. Please note that the Policy relates only to living individuals in relation to personal data relating directly to themselves, and not to persons in any other capacity.
Privacy Policy at The Empty Glass Limerick
 Information we may collect from you
We collect personal data from you which you volunteer when you provide such personal data to us, or via our services with which you interact. We may also be given other personal data relating to you by other persons, or we may obtain such other personal data about you as may be provided to us in the course of our legitimate business activities.
We may collect and process Data. Including the following in the course of providing services to you, which could contain your personal data:
your full name; your address; your various email addresses; your various phone numbers including mobile phone numbers; your nationality; your address; financial information about you, including your bank account details, credit card details, or other payment details; details of contracts you have entered with third parties for us to provide services to you; details of your relationship to other parties; your date of birth; details of your children and other relations; medical details, including details of allergies; details of your car registration number; details of your driving licence; details of your passport and all other Data which you ask us to process on your behalf, or which is necessary for us to process in order for us to fulfil our role as providing accommodation, restaurant, bar or food related services to you.
We may also process other data, such as:
When you access our website or wi-fi facilities, your device's browser provides us with information such as your IP address, browser type, access time and referring URL which is collected and used to compile statistical data. This information may be used to help us to improve our website and the services we offer, and to offer services to you.
Security and where we store your personal data
We are committed to protecting the security of your personal data. We use a variety of security technologies and procedures to help protect your personal data from unauthorised access and use. The Empty Glass websites use the industry-standard encryption. This helps to safeguard your personal data and credit card information disclosed for online transactions.
You can also help us to secure your personal data by implementing some preventive measures. Therefore, please do always use a secure web browser and activate the respective settings for the protection of your personal data. As effective as modern security practices are, no physical or electronic security system is entirely secure. We cannot guarantee the complete security of our databases, nor can we guarantee that information you supply will not be intercepted while being transmitted to us over the Internet. We will continue to revise policies and implement additional security features as new technologies become available.
The transmission of information via the internet is not completely secure and may involve the transfer of data to countries outside of the European Economic Area (EEA). This occurs typically through use of cloud solutions for web hosting, email hosting or proprietary software solutions delivered to us through the Cloud. We do not however authorise any third party to use your personal data for their own purposes. Non EEA countries may not provide an adequate level of protection in relation to processing your personal data. By submitting your data, you agree to this transfer, storing and processing.
Although we will do our best to protect your personal data, we cannot guarantee the security of your personal data transmitted to us. Any transmission of data is at your own risk. Once we receive your personal data, we use appropriate security measures to seek to prevent unauthorised access.
Privacy Policy at The Empty Glass Limerick
Uses made of your personal data
We use your personal data that we hold to:
In our legitimate interest of advertising our services, provide you with information, products or services that you request from us or which we feel may interest you, where you have consented to be contacted for such purposes (our list of services below)
carry out our obligations arising from any contracts entered into between you and us
in our legitimate interest of advertising our services, provide details of any loyalty scheme or promotion
comply with legislation and/or
notify you about changes to our services.
List of services
Accommodation
Restaurant
Bar service and other food related services.
We may use your data to send you information relating to our services, events and products which may be of interest to you. If you do not want us to use your data in this way, please notify us to that effect.
We will not keep your personal data for longer than is necessary in light of the reason(s) for which it was first collected.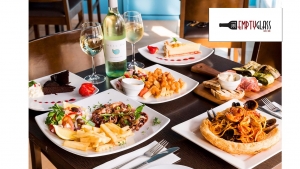 Disclosure of your information
We may disclose your Data to third parties who provide a service to us or in the event that we sell or buy any business or assets, in which case we may disclose your Data to the prospective seller or buyer of such business or assets or if we are under a duty to disclose or share your Data in order to comply with any legal obligation, or to protect our rights, property, or safety of staff or customers. These third party companies may help us to administrate information, take reservations and orders, supply products, administrate and maintain customer data, offer customer service, evaluate interest in our products and services, conduct customer research, or complete customer satisfaction surveys. However, these partner companies are obliged to process your personal data in accordance with this data protection declaration and applicable laws to protect your personal rights. Furthermore, The Empty Glass may be required by law or legal directive to disclose personal data.
Privacy Policy at The Empty Glass Limerick
Links to other sites
Our website may, from time to time, contain links to and from other websites. If you follow a link to any of those websites, please note that those websites have their own privacy policies and that we do not accept any responsibility or liability for those policies. Please check those policies before you submit any data to those websites.
Our websites use several plug-ins owned by the social network site facebook.com, which is operated by Facebook Inc., 1601 S. California Ave, Palo Alto, CA 94304, USA ("Facebook"). You will recognize such plug-ins by Facebook's blue "F" or characterized by using the word "Facebook". When you view a page of our websites that contains such a plug-in, a connection is made to the Facebook servers and the plug-in is displayed on the page via a message to your browser. Information is transmitted to the Facebook server about which of our web pages you have viewed. If you are logged in to Facebook at the time, this information is sent to your personal Facebook user account. By using the plug-in functions (e.g. by clicking on the 'like' button or making a comment), this information is also sent to your Facebook account. Facebook is responsible for any further processing of such data sent to Facebook. You can find the respective conditions and possible settings by consulting Facebook's data protection information. If you want to prevent data to be sent to Facebook, please log out of your Facebook account before using the plug-in.
Your rights
As an individual, under General Data Protection Regulation (GDPR) you have certain rights to apply to us to provide information or make amendments to how we process data relating to you. These rights apply in certain circumstances and are set out below:
The right to access data relating to you ('access right').
The right to rectify/correct data relating to you ('right to rectification').
The right to object to processing of data relating to you ('right to object').
The right to restrict the processing of data relating to you ('right to restriction').
The right to erase/delete data relating to you (i.e. the "right to erasure").
The right to 'port' certain data relating to you from one organisation to another ('right to data portability').
The controller for the purposes of GDPR is
Sarsfield Bridge Hotel Limited t/a The Empty Glass
Changes to this policy
We reserve the right to change this Policy from time to time in our sole discretion. If we make any changes, we will post those changes here so that you can see what information we gather, how we might use that information and in what circumstances we may disclose it. By continuing to use our site or our services or otherwise provide data after we post any such changes, you accept and agree to this Policy as modified.
Privacy Policy at The Empty Glass Limerick
Contact Us
Questions, comments, requests and complaints regarding this Policy and the information we hold are welcome and should be addressed to us at info@theemptyglasslimerick.com
All requests will be dealt with promptly and efficiently.